Twitter
Since April 2009 I have been on Twitter. You get to talk to a lot of people there, including some of the cast of Harry Potter, among those being Emma Watson (Hermione Granger), Evanna Lynch (Luna Lovegood), Bonnie Wright (Ginny Weasley), Jessie Cave (Lavender Brown), Tom Felton (Draco Malfoy), Matthew Lewis (Neville Longbottom), Devon Murray (Seamus Finnigan), Chris Rankin (Percy Weasley), James Phelps (Fred Weasley) and Oliver Phelps (George Weasley). They have between 95,000 and 1,760,000 followers and get loads of tweets from fans every day, but they do their best to answer as many tweets as possible.
I must admit that I have only followed the three "Weasle
y brothers" and
I've had the good fortune of tweeting with all three of them. For a year I was even Oliver Phelps' "tweetheart" (he seem

ed

to pick a new one e

very

year!) and during that year he tweeted me almost daily. James Phelps usually tweeted me once a month and Chris Rankin every third month or so, but I've stopped tweeting them now as I simply don't have the time

anymore. It has been a fun ride, though, following them from being awkward young guys to adult married men and I have really enjoyed it!



Iíve talked to Chris Rankin about his band, his role as Percy, J. K. Rowling, his university studies, snow, the Monkees and the annual Harry Potter Festival in Denmark and Chris has always been very good to me, especially on Tweetcam where he usually "talk

ed

" to me at length.
Iíve talked to James Phelps about his followers, about female skeletons, LOST, Black Sabbath, Ned from South Park, a T-shirt I once gave him, Christmas, falling asleep on trains, ghost walks and his brotherís forgetfulness. He's the one of the "Weasley brothers" with whom I have had the most fun on Twitter, but today I don't even follow him anymore!
Iíve talked to Oliver Phelps about his career, football (mainly Aston Villa as weíre both fans), boxing, golf, cricket, his then-car (an MX5 Roadster named Sidney), his iPad, Weezer and Creed albums, Ginger Ninja, Alter Bridge, Shinedown, Black Sabbath and Rage Against the Machine concerts, Download Festival, riots, strikes, snow, the flu, eye surgery, cooking, college curriculums, German television, presents for Christmas and Valentineís Day, stuff we have sent each other, Californian singer/songwriters, Drayton Manor, Angry Birds, Australia, his JOP website and JOP TV shows and - of course - profile pics.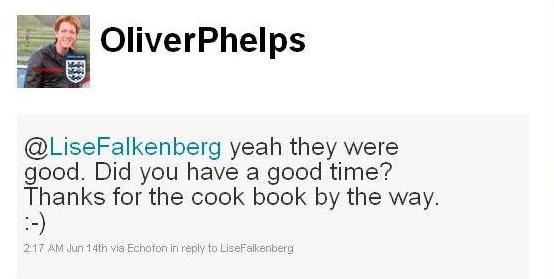 So far my proudest moment was in December 2009 when Oliver Phelps aka George Weasley asked me if he could use one of my pics as his official Twitter profile picture. Of course he could, and that photo was used for a lot of things during his six months of application, among them to represent him in the nomination for the "Best actor on Twitter"-award. I must admit that Iím rather proud of it. Itís not every day that you can boast being the photographer of Oliver Phelpsí official profile pic. Thank you, Oliver, and you are welcome as well. UTV!

@ Lise Lyng Falkenberg, 201

6